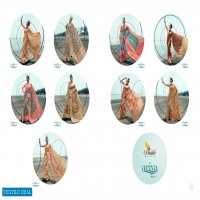 Pankh Ariya Vol-1 Wholesale Linen Silk Saree Digital Print Pattern Indian Sarees
---
---
---
Call Now For Order:
+91-84601 92326
---
Fabric : Lilen Silk Saree Digital Print Pattern
Price : 1355/- + Gst charges extra
Pankh
Pankh manufacturer and supplier of premium quality array of Party Wear Saree, Casual Saree, Printed Saree, Designer Saree, Fancy Saree, Exclusive Saree, Indian Saree, Traditional Saree, Trendy Saree and Bollywood Saree. Since our inception in 2006 at Surat (Gujarat, India), we have been supported by robust infrastructural base that encompasses structural units such as procurement, designing, quality testing, warehousing & packaging, sales & marketing and transportation & logistics. The designing unit is outfitted with ultra-modern machinery and tools that are needed for streamline designing process. All units are handled by highly skilled team of professionals. We represent stylish and fashionable Indian Sarees for all occasions, festivals and events in different designs, patterns and vibrant colors. Our main area of expertise has always been to come up with creative and eye-catching designs at the same time, to use traditional Indian Printing method.