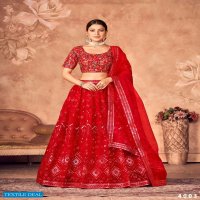 Tejasvee Aakrut Vol-4 Wholesale New Lehenga Choli Catalog Designer Catalogs
---
---
---
Call Now For Order:
+91-84601 92326
---
*Tejasvee* Brand launch New Lehenga Choli catalog
*Catalog Name :- Aakrut vol 4*
Lehenga Fabric :- Soft Organza.
4001 & 4003 : Heavy Banglori Silk.
4002 & 4004 : Soft Organza.
Dupatta Fabric :- Soft Organza.
Work :- Deisgner Sequence Embroidery Work.
Lehenga Fair : 3.5 Meter.
Type : Semistitched/ Blouse Unstitched
Tejasvee
Tejasvee Manufacturing The philosophy behind the brand is to create ensembles that define elegance. The uniqueness of each designer saree and lehenga , curated with exquisite embroidery and patterns, each telling a different story and celebrating every moment is quite easily the USP of Tejasvee.