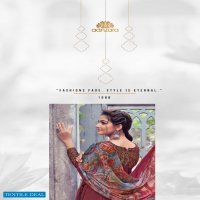 Acme Aanzara Orabella Wholesale Pure Heavy Cotton Rayon Weaving Jacquard Salwar Suits
---
---
---
Call Now For Order:
+91-84601 92326
---
*
Aanzara
Orabella Collection_*
Catalog Cost: 10,770/- For Pcs 6 pcs Average: 1795/- per pcs
*
*Top* Pure Heavy Cotton Rayon Weaving Jaquard ( fancy back jaquard which can be used as front also )
*
Bottom* Pure Heavy Rayon Weaving Jaquard Bottom.
*Dupatta* Pure Bamberg Chinon Silk With Fancy Latkans
Exclusive Range of High Fashionable Viscous Weaving Jaquard By Viscous Chinon Silk Dupatta
Acme Weavers
Acme Weavers is a company incorporated in the year 2013. The company is set up with the main object of manufacturing, processing and marketing of Salwar Suits & Anarkali Suits. Though Acme Weavers is a new name in this domain but is blessed with an experienced team., which has domestic and overseas market clientele. The company markets its product under the brand name "RangSutra" and got registered with Registrar of Trade Mark, Government of India.